When your device connects to the network it intermittently syncs with Chrome Management policies to make sure they are up-to-date. In some cases you may need to force this reload to test live changes to policies.
One caveat here is that your device must be able to connect to a network before you can reload these policies. If you device is restricted to a specific set of Wi-Fi networks then you will have to be in range of one of those networks in order to login and reload the policy.
To force reload your device policy:
Login to the Chromebook that is having the problem and launch the Chrome browser (if it doesn't launch automatically).


In the URL field type chrome://policy and hit enter. At the top left you will see a button called "Reload policies." Click on that button, wait about 30 – 60 seconds and log off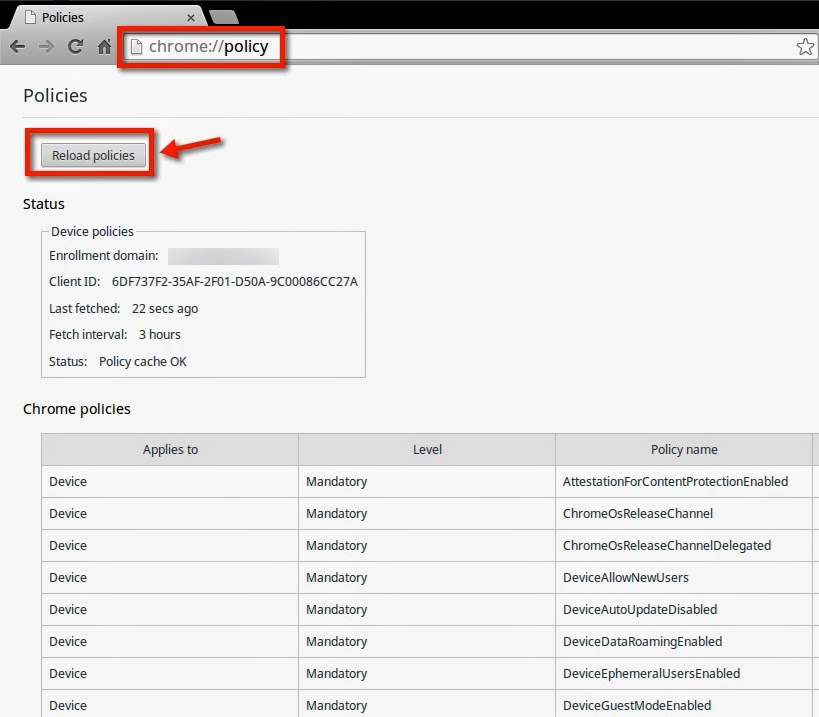 If you are an administrator you can check the Chromebook for the policy that you are missing (i.e. wifi, login screen, SBAC Airsecure browser app, etc.). If you do not see it right away, try updating again or just let it sit for a little longer.
Cómo volver a cargar las Políticas de Chromebook
Cuando su dispositivo se conecta a la red, se sincroniza de manera intermitente con las políticas de Administración de Chrome para asegurarse de que estén actualizadas. En algunos casos, es posible que deba forzar esta recarga para probar los cambios en vivo de las políticas.
Una advertencia aquí es que su dispositivo debe poder conectarse a una red antes de que pueda volver a cargar estas políticas. Si su dispositivo está restringido a un conjunto específico de redes Wi-Fi, deberá estar dentro del alcance de una de esas redes para iniciar sesión y volver a cargar la política.
Para forzar la recarga la política de su dispositivo:
Inicie sesión en el Chromebook que tiene el problema e inicie el navegador Chrome (si no se inicia automáticamente).


En el campo URL, escriba chrome://policy y presione enter. En la parte superior izquierda, verá un botón llamado "Reload policies". Haga clic en ese botón, espere unos 30 - 60 segundos y cierre la sesión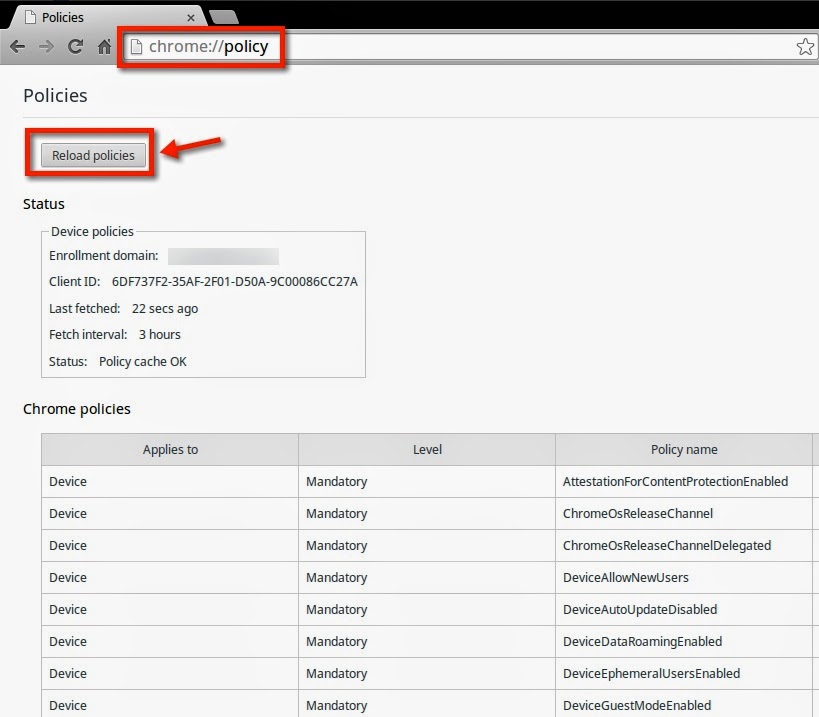 Si es administrador, puede consultar la Chromebook para ver la política que le falta (es decir, wifi, pantalla de inicio de sesión, aplicación de navegador SBAC Airsecure, etc.). Si no lo ve de inmediato, intente actualizar de nuevo o simplemente déjelo reposar un poco más.