This article is designed to help guide staff on how to practice IAR with their students using Chromebooks. It includes:
- Two options to practice the test (via the link or securely within the TestNav app)
- How to navigate to the practice tests within TestNav
- Example student test screens
- How to exit the practice session
When you practice the IAR computer testing with your students, you have a couple options (with either option, it is not necessary to setup anything on the teacher proctor end).
1) Share this link with students.
OR
2) *Recommended option: To practice free from distractions, have students log out of their accounts and access TestNav in the lower left "Apps" of the main Chromebook login screens.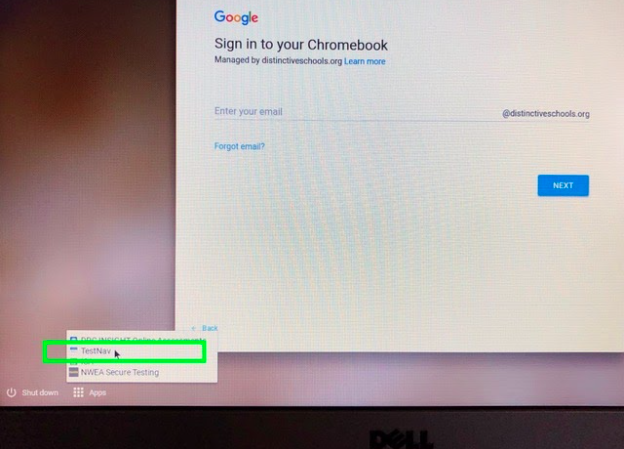 After TestNav loads, you may see this screen with all the different states. Choose "Illinois" (if you already see the Illinois screen, move to next step):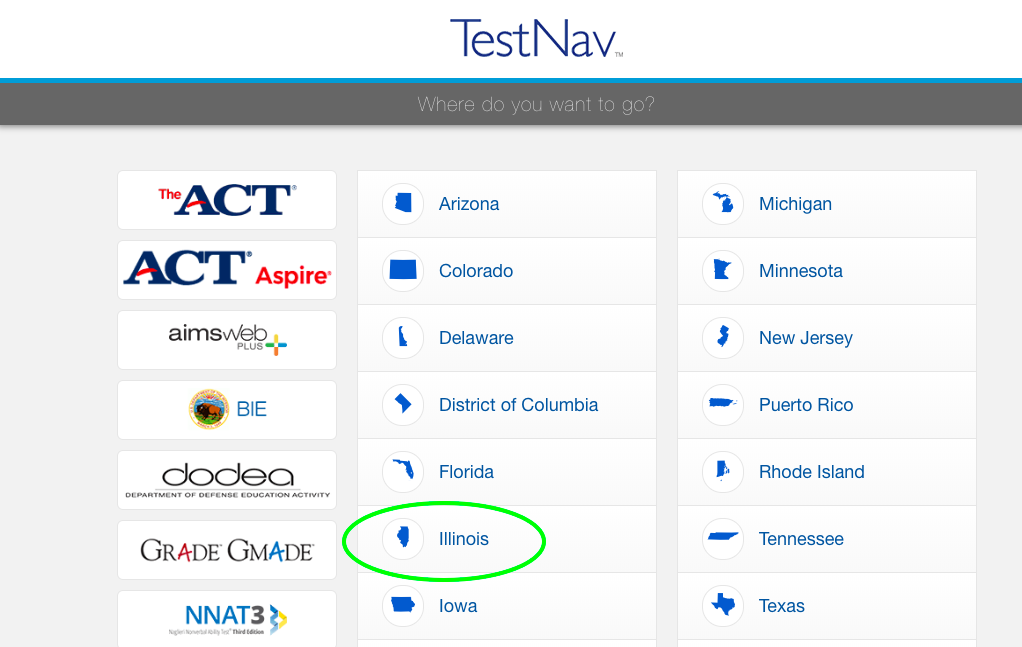 You are now at the main Illinois login screen. Under the login fields click the link "Practice Tests":
Practice tests are broken up by Math/ELA (top tabs), and grade levels (left column). For whatever unit they are practicing, choose "Computer Based Practice Test".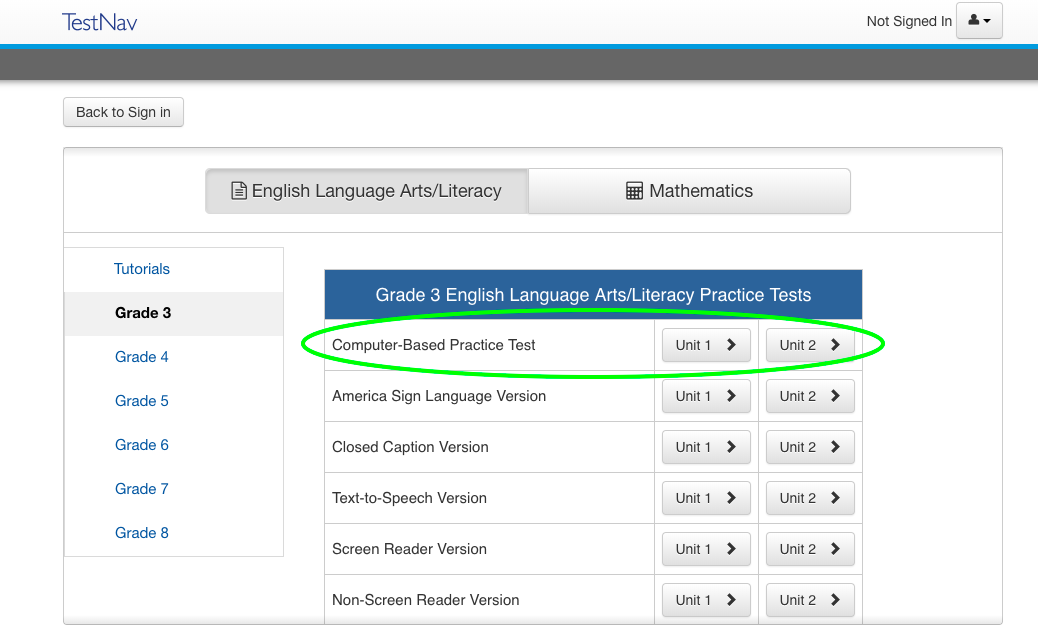 Begin Unit screen: During practice, please remind students:
1) IAR is a timed test (unlike NWEA)
2) Students are allowed to bookmark/review questions before submitting final answers
3) One of the ELA units will ask for a "written response". This is to be a complete essay.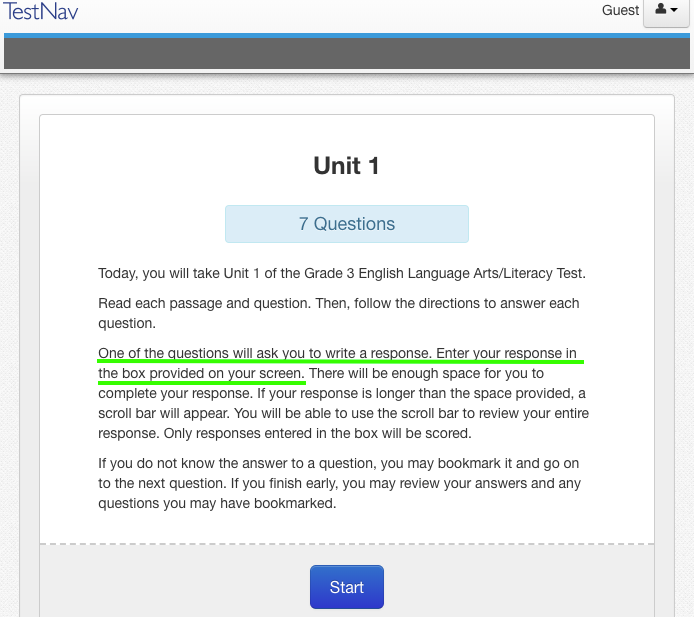 - Menus & Tools to mention while students are practicing -
(these are also listed in the Session Setup article):
Upper left navigation (circled orange). Students can manually move back & forth between questions.

Bookmark icon (circled yellow): bookmark questions to review later before submitting.

The toolbar (circled pink): shows tools available (may change each question).

The "Review" menu (circled green): students can mark questions for review and hop back and forth between questions. Bottom portion shows # of Not Answered and Bookmarked questions.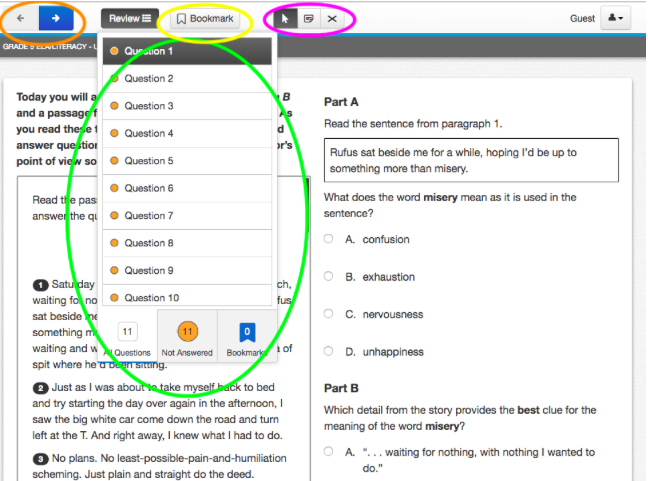 There is also

Math Reference Sheet

available during testing. It is viewable by clicking the "Exhibits" dark-square icon on the right-hand side of questions when applicable.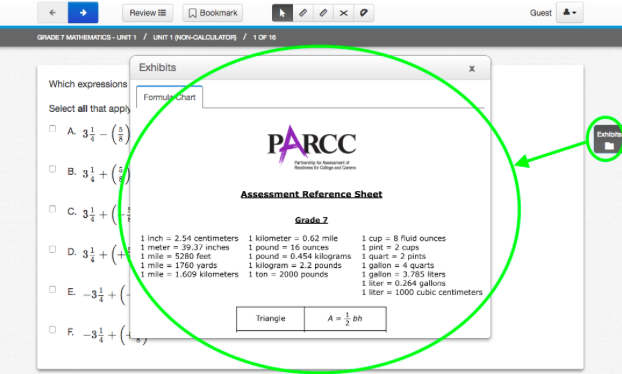 End of a Unit screen: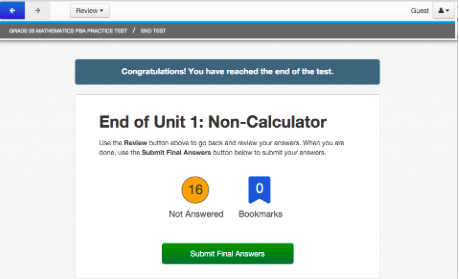 End of Session screen (completion of all units):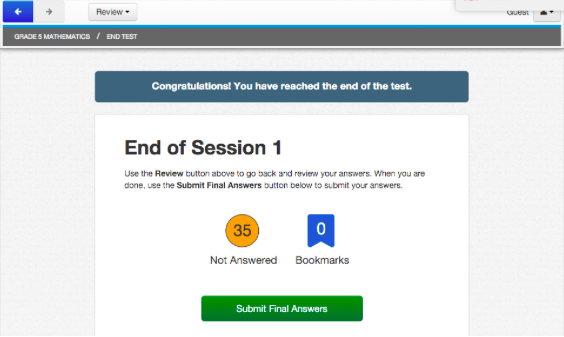 Exiting practice: students can exit the practice units by clicking the upper right icon > "Sign out of Test Nav". Then "Back to Sign In" on the following screen. This will bring them back to the main Illinois login page.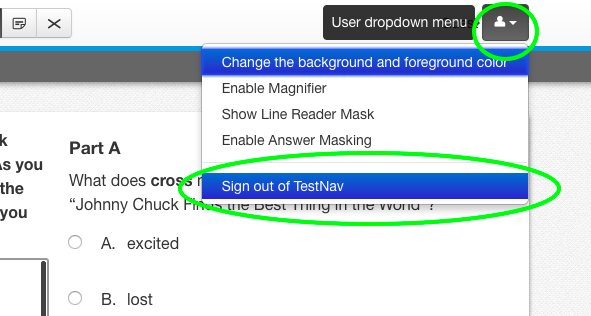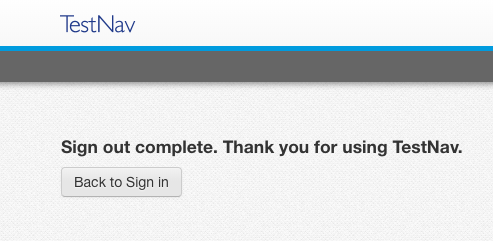 To get back to the main Chromebook login screen, press power button > Sign out