This article is designed to:
- Help teachers & staff quickly setup an IAR session
- Provide instructions for student Chromebook setup (along with example student test screens)
***For student Chromebook instructions, scroll further down this doc until you see
"Quick Reference for Student Chromebooks" in green***
Test Management is performed in PEARSON ACCESS NEXT (ILLINOIS). Login here:
https://il.pearsonaccessnext.com/customer/index.action
User name is your full DS email address.

If you have forgotten your password from last year, please click "Forgot Password".

If you are new this year and did not get a welcome email, please click "Forgot Password".
Student Login Tickets
Ask your campus Test Coordinator to print your student login tickets. Tickets are valid for all units of each subject. As part of security measures, tickets are to be collected after each unit (along with scratch papers).
After login, verify you are in the correct School Year (use dropdown arrow in the top black bar and choose most current).

Starting a Test Session
Go to

Testing -> Select an action -> Sessions.
On the next screen, choose your test. Filters are available:

Session Status: choose "Ready" if starting a new full session

Organization

Test: choose your test based on Grade / Subject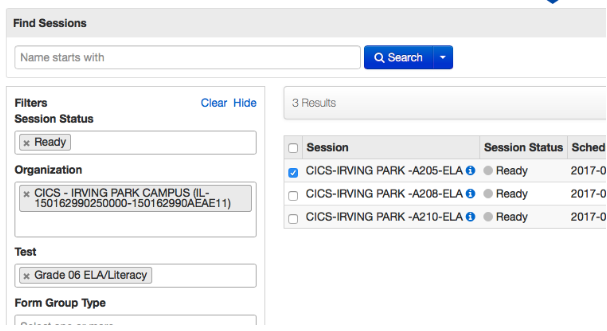 Once you have selected your test,

scroll towards the top of the screen

and click on

Go to Student in Sessions

On the next screen, on left-hand side, select your class again under "Session List"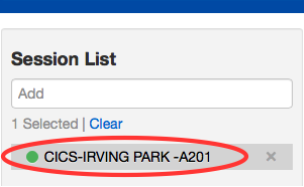 Now your class session will show up further down the screen.

Click upper left box to select ALL students, then click "Start"

.
Once the session is started, unlock buttons for all of the

Units

will appear, this is where you can unlock a unit for the entire class.

Only the unit being tested should be unlocked for the full class.

For make-up purposes, you can unlock students individually in other units further down the page.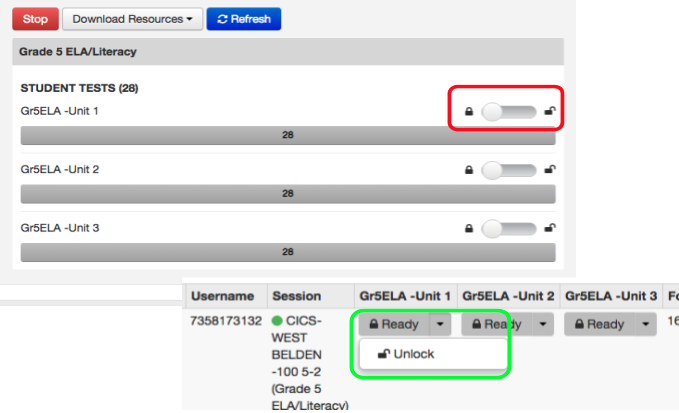 **When students are finished and completed for the end of the day, you will need to lock the session unit in order to be ready for the next day, that way your students will be all set for the next unit**

**You may need to resume the test.

You can resume by selecting students then clicking on Tasks → Resume Student tests. **

Status Color Key: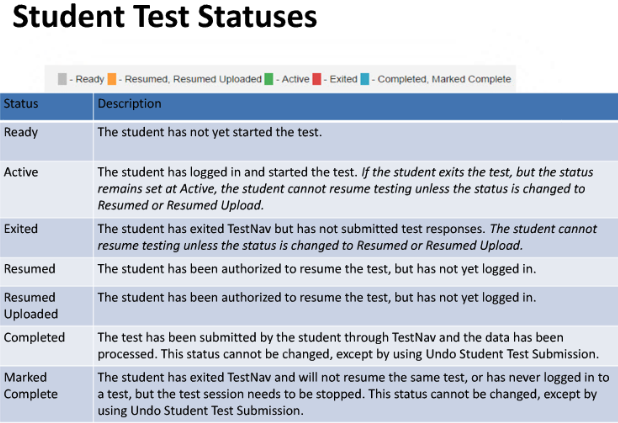 ------------------------------------------------------------------------------------
***Quick Reference for Student Chromebook IAR Setup (TestNav)***
------------------------------------------------------------------------------------
The IAR app for student testing is called

TestNav

.

If students are signed into their Google accounts, they will need to

sign out

to access the main Chromebook login screen.

The TestNav app is one of the secure testing apps located in the lower left of the main Chromebook login screen ("Apps"->"TestNav")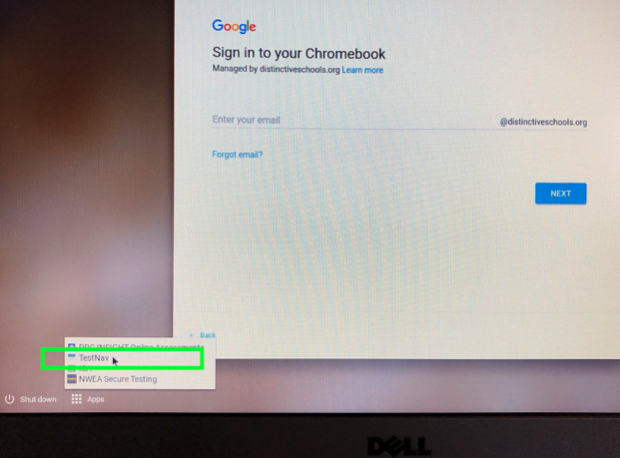 If this is the first time TestNav has been launched, this will be the screen students see. Choose "Illinois":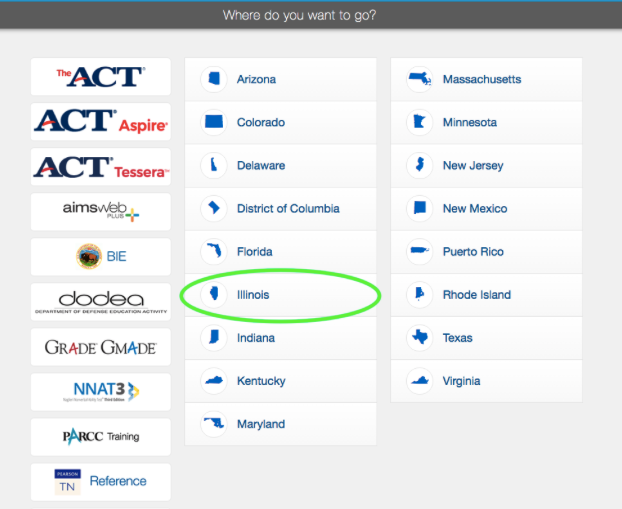 Students will now be at the main

Illinois

login screen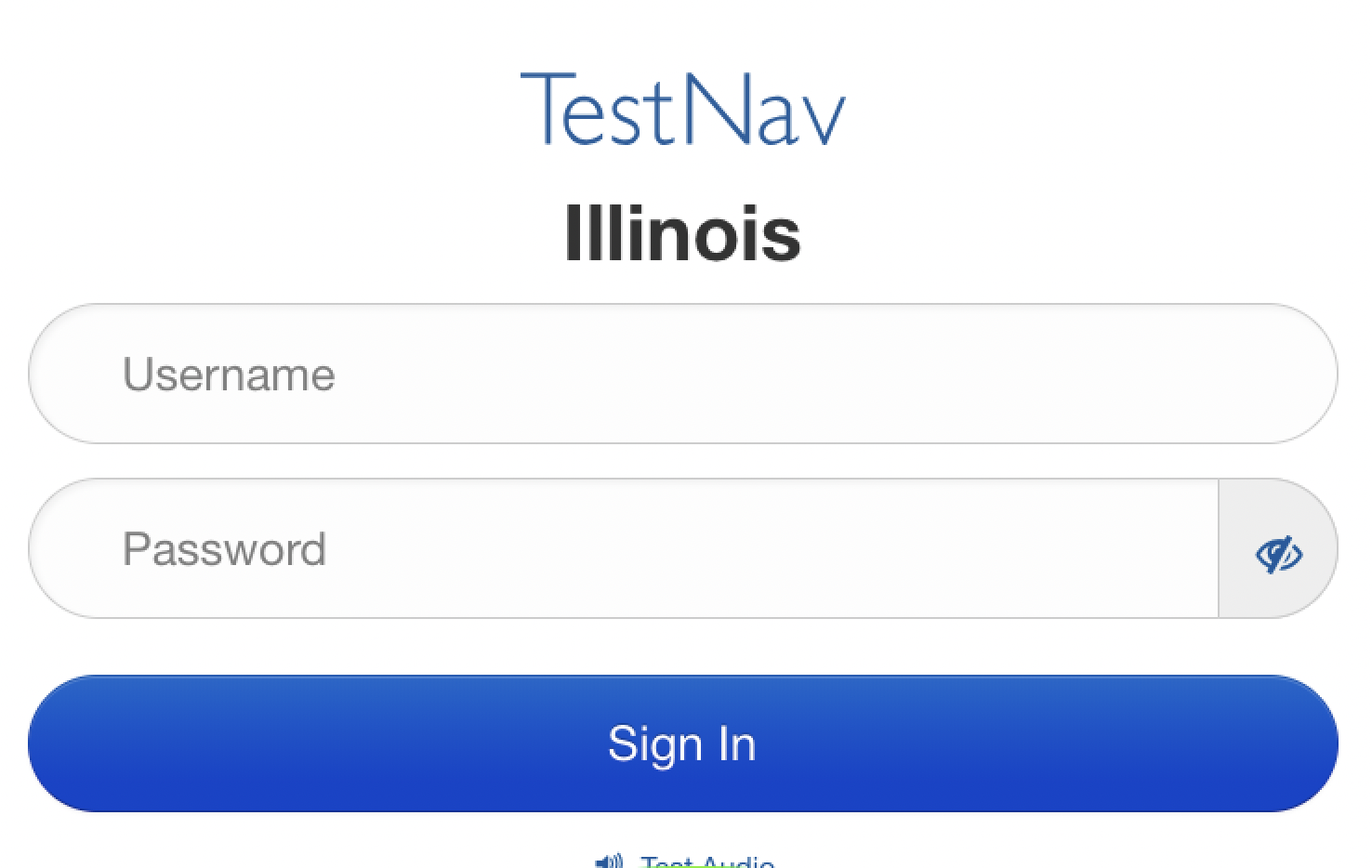 ***If it does not say "Illinois" here, their login ticket will not work*** If it says anything else up top, have them click the upper right icon and "Choose a different customer" to go back to previous menu (above)
Audio level can also be tested on this screen.
Students can now log into the test with the printed ticket provided by the administering teacher.
Before each unit, there are instructions the teacher & students read. When ready, they can hit "Start".

At this time, the teacher should note the starting/ending times on the whiteboard.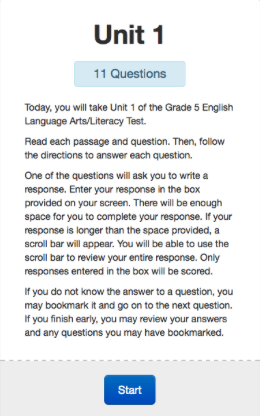 Example student question screen

. Note the following:

Upper left navigation (circled orange). Students can manually move back & forth between questions.

Bookmark icon (circled yellow): bookmark questions to review later before submitting.

The toolbar (circled pink): shows tools available (may change each question).

The "Review" menu (circled green): students can mark questions for review and hop back and forth between questions. Bottom portion shows # of Not Answered and Bookmarked questions.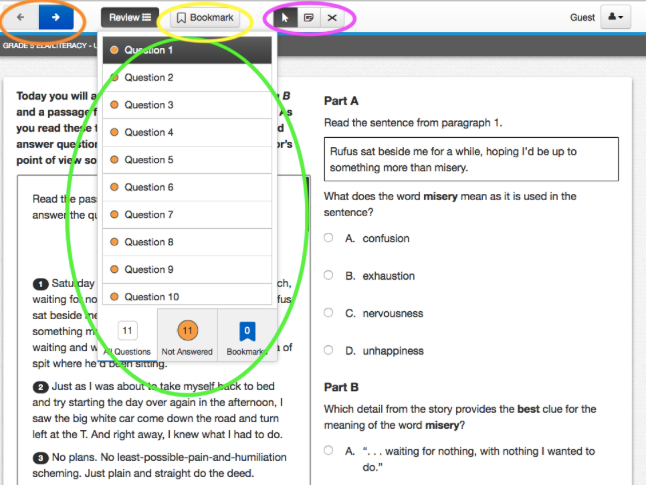 There is also

Math Reference Sheet

available during testing. It is viewable by clicking the "Exhibits" dark-square icon on the right-hand side of questions when applicable.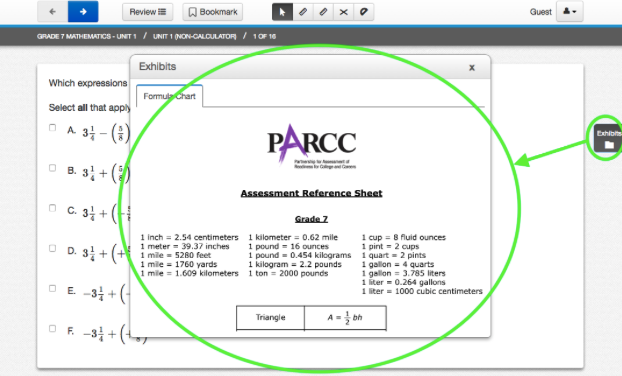 ***END OF UNIT or SESSION SCREENS***
End of a Unit:
Student can review bookmarked/non-answered questions, then must hit

"SUBMIT FINAL ANSWERS"

: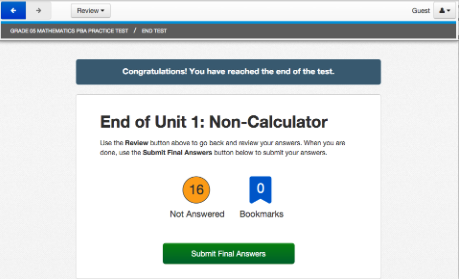 End of Session (completion of all units):
Looks very similar…

again, student can review bookmarked/non-answered questions, then must hit

"SUBMIT FINAL ANSWERS"

. Their status on the teacher proctor screen will turn to

BLUE "Completed"